Directions to St Peters Country Cottages
From the Airport:
Turn right out of airport and drive straight to St Peters Village (St Pierre Du Bois), approx. 1.3miles. At the filter box on the road, bear left towards the parish church.
Take the first turning on the left and go all the way down to the yellow line (in Guernsey these are stop lines).
Go right and follow the road around several bends and up the hill. Carry on along this road until you come almost face to face with a house called Beau Sejour. Our road is then the next on the right; it is small and easily missed.
Our house is the first on the right, a farmhouse gable to the road with La Gallie marked above the door. There is plenty of parking in the drive.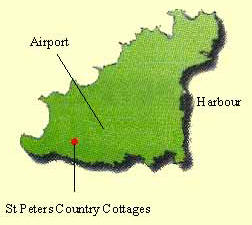 From the Harbour:
When you come off the ferry you will come to a large roundabout, take the 2nd exit and go up the hill (St Julians avenue), you then just need to follow the signs to the airport which is about 4 miles, then from there follow as above.
If you are lost or it is dark, phone us on 01481 264242 and we will come and meet you.